While installing the latest Firmware F.31 to a HP Spectre x360 Convertible with the HP Support Assistant I faced serious errors. Those resulted in the cancellation of the update process. The updater insisted that there is not enough space on the fresh reset 1 TB PCIe SSD …
… no way to get the firmware flashed! :-/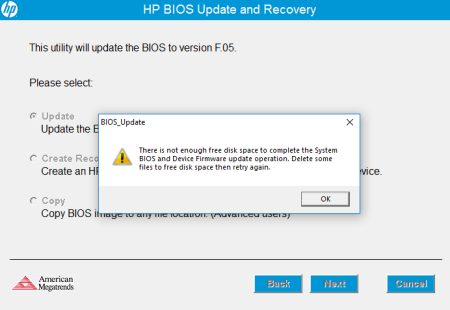 Also the method to create a portable usb-flash drive was not successful at all because this drive was not bootable and the onboard uefi-tools could not use the files on the stick to do anything with them.
I cancelled this try to get the firmware updated and  was completely annoyed of that behavior.
Restarted the unit to UEFI, restored previous settings (disabled CSM, enabled Secure Boot, …) and reboot to Windows.
When logged in started the HP Support Assistant again to create some screenshots for a photo love story that could be send as support ticket to HP.
Surprisingly the Firmware Update tool continued to work!
What the hell was going on here?
Solution:
I simply forgot to remove the usb-stick and the flash-tool was able to write the firmware files to them.
So, just add a FAT32 formatted drive to your HP PC/Laptop/Tablet before starting the firmware update procedure. The USB stick should have at least 150 MB free space.
Background:
HP Support Assistant seems to need a removable writable drive that is not the system or other fixed drive.
The usb-stick succeeded this requirement – here we go! 😉
It seems also I'm not the only user with that problem here are 2 links to other who face the same difficulties:
https://h30434.www3.hp.com/t5/Notebook-Boot-and-Lockup/No-free-space-to-complete-System-Bios-update/td-p/6820076
https://h30492.www3.hp.com/t5/Notebook-Hardware/Linker-Lautsprecher-schon-defekt/td-p/570376